Irish Ancestry Research Centre
At the historic heart of Limerick City in Ireland, amidst the Georgian splendour of O'Connell Street, sits a not-very-secret door into the past. It has been said that those who do not learn from the past are destined to repeat it. The sign over the door says Irish Ancestry Research Centre and we are here to help you understand your past.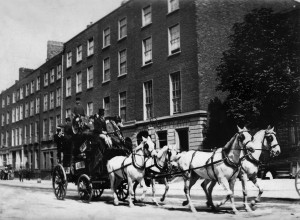 The Irish Ancestry Research Centre (IARC) is a leading provider of:
Our team of researchers and education professionals is available to you at our centre at 58 O'Connell Street, Limerick City, Ireland.
So, if you are in Limerick then drop into our office where we can organise access to computers, support and assistance to help further your genealogy research.
Alternatively browse our services online, and complete our research request for genealogical research assistance.
IARC is a not-for-profit organisation, and has charitable status, established in 2011. It is based at 58 O'Connell Street, Limerick City, Ireland (Tel: +353 61 207114) and welcomes walk-in business.
For further information, email:  info@irisharc.org
Business and Educational Associates.