The Irish Ancestry Research Centre (IARC) are based in Limerick, Ireland.  IARC provides genealogy research and courses in genealogy for its customers. They conduct personal research, genealogy workshops and educational programmes, many of which are also offered as online services. The centre uses advances in web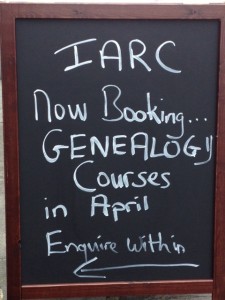 technology and partnerships with industry to provide access to a wider range of sources and a more textured experience for the genealogical researcher.
Established as a private company limited by guarantee, it is a not-for-profit entity providing independent information on Irish genealogy and ancestry. Its Board of Trustees comprises many leading figures in Irish and international genealogy.
IARC  has established a number of partnerships with experts in the industry and universities. IARC have partnered with the National Library and the National Archives of Ireland, Kerry and Clare County Library Services and community groups like North East Kerry Development, North Tipperary Leader, and Tipperary Clans Archive to conserve, preserve and create historical archives.
IARC Team
The team at IARC are a highly qualified and experienced team of researchers. Our team of experts include:
Dr. David J. Butler, Academic Director, IARC
Janine Behan, IARC
Research Associates (Ireland & Overseas)