Launch of Limerick diaspora report, Feb 2nd 2015.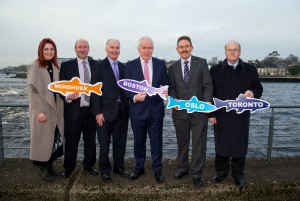 Photo: Sarah Gibbons, Dr Pat Daly, Tim O'Connor, Jimmy Deenihan (Minister for Diaspora Affairs), John King (IARC), and Michael Noonan (Minister for Finance), at the launch of the GLN Limerick diaspora report.
The Global Limerick Network (GLN) Study Report and Survey was launched by Minister for Diaspora Affairs, Mr Jimmy Deenihan TD, on Monday 2nd Feb 2015, in City Hall, Limerick.
The overall objective of the GLN initiative is to connect & network Limerick City & County with its diaspora across the globe.