Limerick Genealogy Day 14th March 2015.
Following on from last year's 'Made in Limerick event' for City of Culture, Genealogy Day will be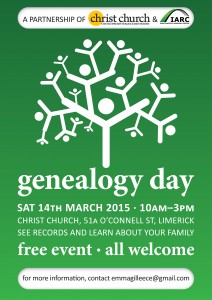 taking place again. The organisers are Christ Church United Presbyterian and Methodist Church in partnership with the Irish Ancestry Research Centre (IARC). The event is on Saturday 14 March 2015 during St Patrick's weekend in Christ Church 51A O'Connell Street and its completely free to attend.
Contact: emmagilleece@gmail.com